People are visually oriented, and the numbers speak for themselves:
90% of the information transmitted in the human brain is visual;
People retain 65% of a message when it includes an image;
Visuals are processed 60,000 times faster than texts.
Given these facts, perhaps it isn't surprising that Instagram has become the social media platform of choice for a growing number of users. And this popularity puts the platform at the forefront of social media marketing.
As a marketer, you have 5 seconds to hook your followers. If you don't grab them, you'll lose them. Sharing high-quality, eye-catching images is the key to success on Instagram—but you won't attract an audience by publishing overly polished stock photos. In fact, people find promotional content annoying, so focus on building brand loyalty and trust first. The simple takeaway? Stay unique.
When people trust your brand, it's more likely they will consider your brand when making purchase decisions. Even so, posting high-quality pictures on Instagram isn't enough to sell. You also need to know how to drive engagement, and which types of posts can boost sales. Here are 6 Instagram post ideas to help you get started.
1. Product reviews
Because you can't see or touch it in person, buying a product online comes with some risk. To minimize that risk, people seek out product reviews before they commit to buy. Honest, timely reviews help customers decide whether the product would meet their needs. 71% of customers are more likely to buy a product after researching user-generated reviews.
As they say, a picture is worth a thousand words—and a video even more so. Today, video content is trending as a way to present quick, trustworthy reviews. However, video production requires considerable time and money, and some brands might not be prepared to make this investment.
Luckily, micro-influencer marketing can offer new opportunities to those brands.
For example, My Bright Journal collaborates with influencers on Instagram to share reviews and collect testimonials.

Source: MyBrightJournal
Product reviews help shoppers make their purchasing decisions. When you turn to micro-influencers, you don't have to spend as much money on content production, so you can afford to send them a freebie.
Sharing product reviews helps to show followers how your product improves users' lives. It's an authentic way to provide meaningful content that shoppers use to form an opinion of your brand and make purchasing decisions.
Remember, when you work with influencers, you're not buying an ad. Give them the freedom to speak about your brand & products honestly, even if it's not all positive. [Click to tweet

] A well-rounded review gives shoppers a full picture of your product, and they'll trust it more than a bland, insincere five-star endorsement.
What you can learn: Micro-influencers are a great way to generate product reviews for your brand. If you want to save even more time and money, encourage your users to share their own product reviews. These offer the most authentic way to build trust in your brand.
2. Giveaways
Let's be honest: Everyone loves free stuff.
It's no secret that the word free is powerful, and many marketers use it in their copy to grab shoppers' attention. That's why samples & giveaways have become such a popular promotional tactic.
When you give away your product, you attract a larger audience of people willing to try your brand. It's an opportunity to build brand awareness and encourage shoppers to try your product before buying it. It lowers the risk of trying something new.
Take Cellucor, for example. Every Friday, they hold giveaways with small prizes to keep their followers interested and engaged.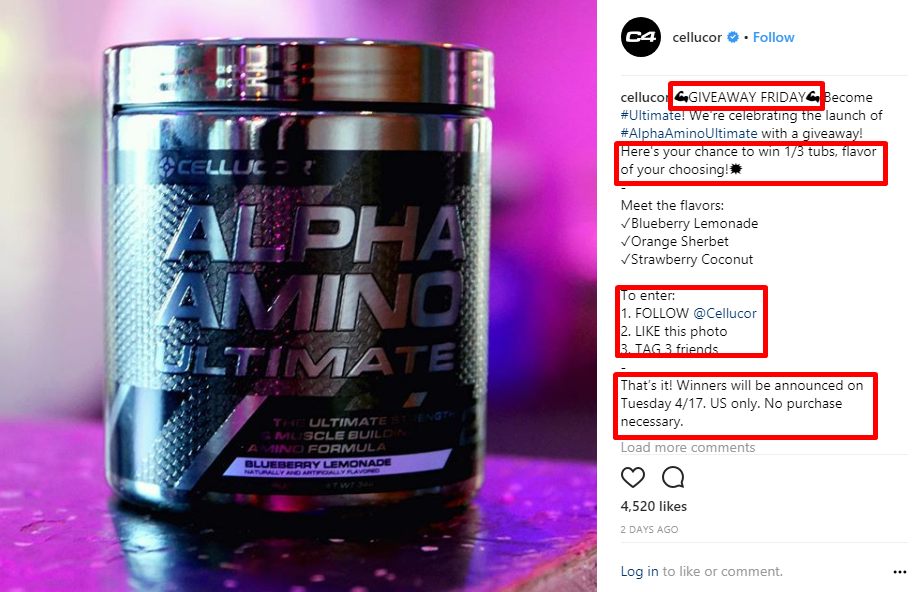 Source: Cellucor
Since people love free stuff, this type of post often goes viral, attracting more Instagrammers who want a chance to win. If you want everyone to feel like a winner, you can offer a discount to all entrants.
One point of caution: Not everyone who enters your giveaway will be interested in your brand. While the engagement may be impressive, you'll likely notice a drop once the promotion is over. That's okay—those who leave probably aren't a good fit for your target audience, and the ones who are will stick around.
What you can learn: Give away branded freebies to build brand awareness and attract followers who want to try your product before committing to buy.
3. Lifestyle photos
What makes you different from all the other brands trying to sell their products on Instagram?
Try to sell solutions, not products. Give lifestyle photography a try.
When you create an atmosphere that resonates with your followers' lifestyle (or desired lifestyle), your brand feels more authentic. Don't focus on your product; focus on your potential customer.
For instance, Lululemon uses lifestyle photography to hint at what users can be with their products. But it's not about selling the product, it's about selling the lifestyle—fashionable, comfortable and confident.

Source: Lululemon
Stale product images don't stir up emotions. But lifestyle photos help shoppers imagine how they might feel after buying your product. If that lifestyle speaks to their desires and sensibilities, this post idea can easily contribute to sales.
The wait is over: Unsplash is here. Access 1,000,000+ professional stock photos FREE with our new Unsplash integration. Now you'll always have the perfect picture to complete your next project. Learn more>>>
What you can learn: When you share lifestyle images of your products, include their names in the caption. This makes it easier for shoppers to find the products that caught their eye.
4. Inspirational quotes
We all have moments when we need to motivate ourselves. When you're looking for a quick pick-me-up, the right inspirational quotes can really uplift your mood.
Even though inspirational content doesn't always contribute directly to sales, it helps to illustrate your brand's values. Plus, it has more potential to go viral, as people like to share content that reflects their own values, too.
For instance, Nike struck gold with its classic slogan "Just do it." These three words encourage people to overcome their fears and doubts. It's become an inspirational call-to-action that motivates the brand's target audience of athletes and performers.

Source: Nike
Sometimes less is more—and when it comes to Instagram, think first and foremost about fostering brand loyalty. If people draw inspiration from your brand, they won't forget you.
What you can learn: Post short, relevant quotes that can inspire your community. Make sure the message and person you're quoting aligns with your brand's values; otherwise, it won't ring true.
5. Brand achievements
Your brand story matters to your customers, and so does your success.
When you share your brand's achievements, you build trust and reinforce loyalty, which often leads to sales. Reputation plays a big role when it comes to purchase decisions, and your achievements prove that you're a growing company.
For online retailers, this means a lot. Ukrainian luxury brand Elena Reva worked with celebrity Dita von Teese, who posed in their dress for this stylish black-and-white photo shoot. For shoppers, her endorsement offers social proof that this brand is popular with influential people.

Source: ElenaReva
Achievement comes in many forms—brand development, product launch, customer growth—so keep your eyes open for opportunities to tell your story on Instagram. You might be surprised by how creatively you can visually represent your brand's success.
What you can learn: Watch for ways to build trust and reinforce loyalty in your followers. Sharing your brand's success will improve your reputation and impress potential customers.
6. Limited-time sales
As social creatures, it's human nature to hate missing something important. For most of us, FOMO (the fear of missing out) is a real thing, and marketers can use it to their advantage. One example is a limited-time sale, coupon or discount.
Take a look at Passion Planner. They know how to use sales to grab attention and encourage new & repeat purchases. How do they do it? Short descriptive captions, clear deadlines, and brightly detailed images all work together to deliver a compelling message.

Source: PassionPlanner
Nothing delays action more than uncertainty. Run your sales for a short period of time to give your followers a clear understanding of when and how they should act. If you run sales all the time, your audience will adjust and expect discounts continuously. Instead, make them feel like they're getting a real deal by purchasing now.
What you can learn: Use compelling visuals to announce your sale, then provide followers with a clear deadline to increase urgency.
Key takeaway
Over the past few years, Instagram has evolved into a powerful marketing platform that gives brands new opportunities to boost sales. Investing in the right kinds of posts is a strategic way to influence the buying process.