Music is magical — it's a mood changer, capable of lifting spirits or spinning sad stories of melancholy. We turn to it for inspiration. It empowers us to channel a sensation, feeling or mood. For that reason, music can be massively helpful when you're designing, creating or writing content for your company.
So, without further ado, we bring to you some of our favorite playlists that help us get in the mood to create content — no matter who our target audience is or what storyline we're looking to bring to life. 
We've also included a special treat: A Lucidpress playlist curated by our very own staff!
A playlist for every mood
Regardless of what mood you're in, we've got a playlist that covers most of the instrumental-magic-making docket.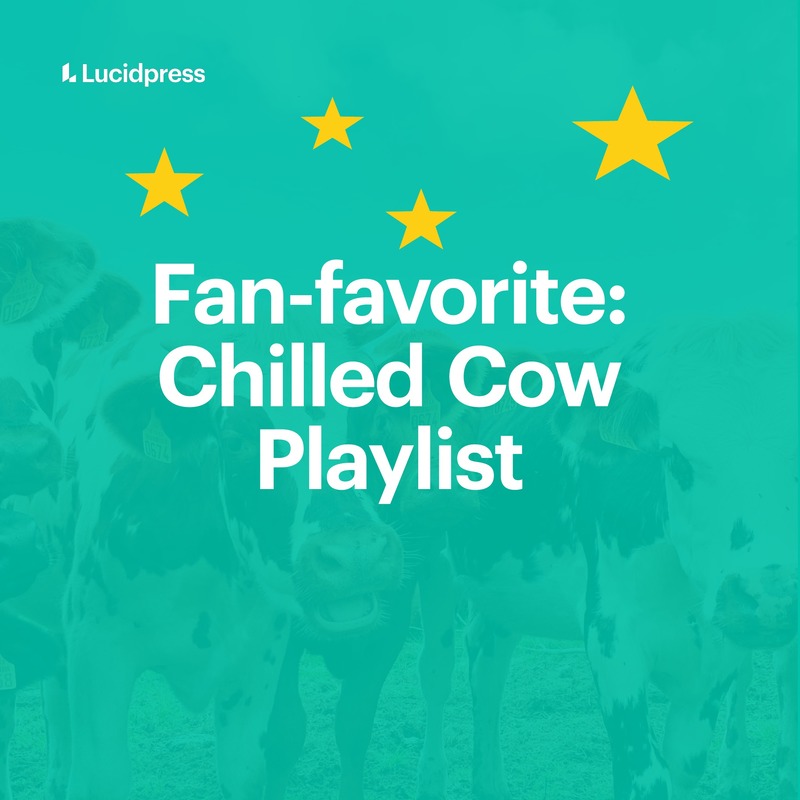 Fan-favorite: Chilled Cow —  A fan-favorite on the Lucidpress Brand Creative Team, Chilled Cow keeps us going when we need a little extra juice during production time.
Meditative Magic — Alternatively, sometimes it's nice to zone out and get work done to the soothing sounds of nature. 
Go-to Study Buddy — According to the internet and various studies by medical-ish professionals (aka smarter people than the likes of yours truly), listening to Classical music while you study makes you smarter. Or something of the sort. We're sure the same concept applies when listening to Classical music while you work, right?
Classic Movie Moments — We think that movie music is terribly underrated and doesn't get nearly enough attention, which is why we're including a playlist with some of the most classic movie music.
70s Throwbacks and Smooth Grooves — From classic rock to swoon-worthy crooners, this 70s throwback playlist has a little bit of something for everyone. 
Put Your Dancing Shoes On — Personally, funk is my kryptonite. In the best way possible, ya know? Others may disagree, but, there's something to be said about working to some good old fashioned funk tunes.
Designer's Choice — We bring to you, a playlist created by our very own, in-house designer Tyson Mickelson
Big Brand Energy — Last but not least, we've included a playlist compilation of some of our go-to tunes. 
When you need a muse
Unfortunately, try as we all might, sometimes listening to zippy-zappy music to get the creative juices flowing simply doesn't work. And as The Beatles song goes "oh, I get by with a little help from my friends." 
In our case, our friend is the template gallery within Lucidpress. Whenever we feel stuck or like we need a jumpstart, we look to the template gallery for inspiration. Or, for those of us wordsmiths, we take a minute to look through our favorite blogs or news sources and let the wordsmithery simmer — and hope it takes flight! 
That said, tell us, what's your fave music to create content to?!