Earlier this year, we announced our first-ever scholarship program. The theme was #thinkvisually, and applicants used Lucidpress to create visual designs that answered one of three prompts:
Describe an accomplishment, an event, an interest, or a talent that played a large role in making you the person you are today.

Describe a problem you have solved or would like to solve. It can be an intellectual challenge, a research query, an ethical dilemma—anything that is of personal importance, no matter the scale.

The lessons we learn from failure can inspire later success. Recount a time when you failed. How did this experience affect you, and what did you learn from it?
We received so many awesome submissions, and we truly wish we could reward them all. However, after our team reviewed and voted on the entries, we chose our winner.
Congratulations to our 2017 Lucidpress Scholarship winner, Ashlinn C. of Fordham University!
Ashlinn used one of our book cover templates to answer the first prompt:
We were blown away by the use of color, imagery & text to convey Ashlinn's passion for art and creative thinking. Thank you to Ashlinn and everyone who entered for showing us how they like to #thinkvisually.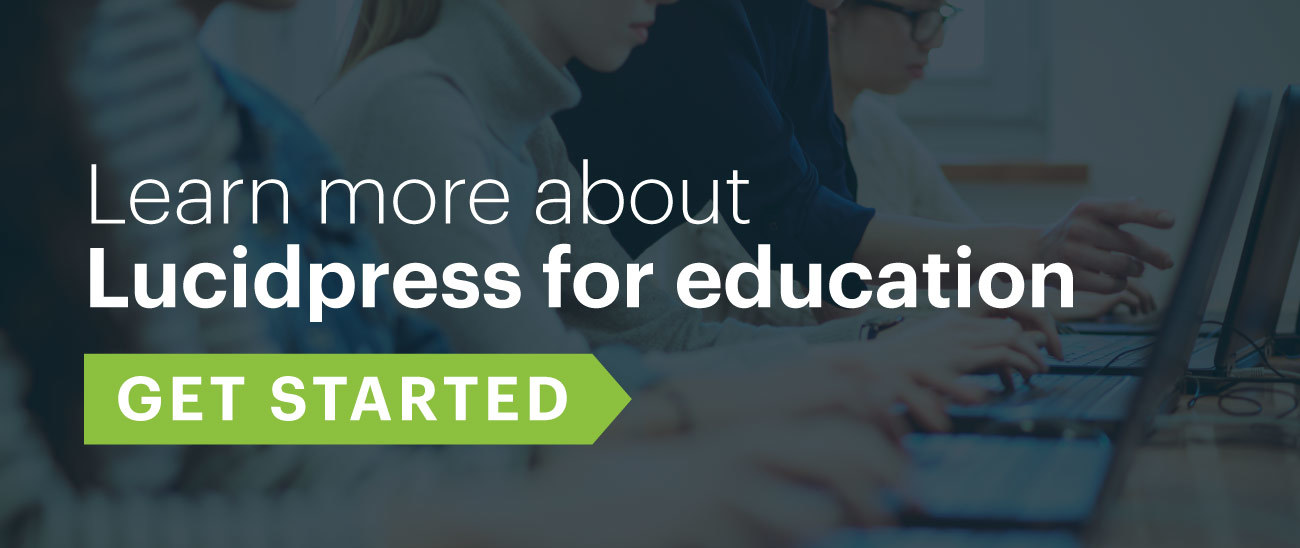 A milestone of our own
Speaking of learning and growing, 2017 has been an excellent year for the Lucidpress blog. This very post that you're reading right now marks our 100th blog post. Of course, we couldn't have come this far without our readers, so we sincerely thank you for visiting and we hope you've found it useful. Here's to many more posts about branding, marketing, design—all of the disciplines that inspire us to #thinkvisually.