So you're wondering how to how to design a brochure that will impress. Dealing in the medium of brochures is a tricky thing, because they're all just one step away from the garbage. But don't worry, this post will show you how to make a great-looking brochure that's not destined for the recycling bin. You'll learn how to master the 2 most important components of brochure design: the copy and the photos.
For a brochure to be a success, your copy and images should be an integral part of the design, not just an addition. The finished product should also be consistent with your brand. Let's jump in.
The copy
Words. We throw them around every day, but how often do you carefully consider what you're saying? When it comes to brochures, word choice is paramount. Remember that your objective is to entertain, persuade, and inform. Here's how you do it:
1. Check your grammar and spelling
Read your work twice, then have someone else look it over. A misspelling or grammatical mistake can slay your professionalism and doom your brochure to the open jaws of the trash can.
2. Make evergreen content
You don't want to create a quality brochure only to make a new one next year because the content is out of date. In copywriting, a principal objective is to make sure your content is evergreen. This means that your content will (theoretically) always be relevant. So, you might want to avoid including references to upcoming holidays or this year's Super Bowl winners.
3. Be international
Your copy will potentially be read by people from many countries and cultures. Every culture has idioms and colloquial expressions that may not transfer well. For example, if you talk about killing two birds with one stone to someone who speaks English as a second language, they might call the animal cruelty hotline.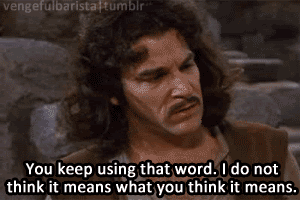 Of course, using colloquial or idiomatic language can humanize your brand and keep things lighthearted. It becomes a problem when you use so much culture-specific language that your writing is unintelligible to someone who has a different background. Knowing your audience will help you strike the right tone.
4. Know your brand and stick to it
Every line you write should align with the larger brand experience of your organization. This creates a consistent experience for your customers—and helps potential customers know what to expect. Just like we speak differently in different social settings, the copy in your brochure should adjust to your brand.
Yelp's Eat24, an online food delivery service, has settled nicely into a brand that really works for them. The tone is playful and lighthearted; for an example, check out this messaging from the Eat24 website:
This copy is clever and it also matches the overall feel of Eat24's site. The humorous, slightly sarcastic branding of Eat24 could work for your brand, but you also might need to take a different approach. Imagine if you saw an ad from your bank that said, "We'll watch your money for you. Probably." Customers would be confused and concerned, so again, know what's acceptable to your audience.
For more examples of standout copy, check out this post from Hubspot's marketing blog.
The photos
Just like your copy, the photographs in your brochure send a message. You'll want to make sure that message is professional and interesting. Before we get any further, I think I need to make one thing very clear:
Beware of stock photography.
Millions of Americans struggle with stock photography every year. You know it when you see it—models with unnatural facial expressions, dressed in stereotypical clothing, all bathed in lighting that even a moth wouldn't fly toward.
Just thinking about it makes me shutter (get it?), and I don't want you to feel the same pain. Luckily, there are alternatives. What follows is a list of my favorite sites for free images that aren't awful (in no particular order).
I find myself visiting this site most often. I think the images are gorgeous, and they're always very high quality. All the images are free, and no attribution is necessary. It's a pretty great deal, and you also don't have to sign up for anything to download the image.
The wait is over: Unsplash is here. Access 1,000,000+ professional stock photos FREE with our new Unsplash integration. Now you'll always have the perfect picture to complete your next project. Learn more>>>
Pixabay has a ton of images on their site, and, like Unsplash, there is no attribution required. There is a pretty diverse range of photos on Pixabay, though the quality does vary. You can find some great stuff though!
Again, no attribution required here, and there's a great selection of high-quality images. Many of the images are comparable to Unsplash, and sometimes the two overlap a bit. Stocksnap.io has definitely come in handy for me.
Flickr has a lot of great stuff, you just have to be aware that not all of it is free for commercial use. You can filter your searches to only include photos that are open to commercial use and modifications, and you'll usually have to credit the image to the original creator and link back to the source, just as I did on the photo above.
There are a few more options out there, but those are a good place to start. Fantastic photos will draw your brochure readers in and stay their trash-tossing hand.