You can make beautiful, attention-grabbing, full-size posters with Lucidpress. These tips will show you how to make a poster with photos, colors & text, no matter what you're promoting. Use the following guidelines to take your poster from "okay" to "excellent."
Ready to design your poster?
Create a free account to follow along.
1. Find appropriate images
Start with a single, core image you want to build your poster around. This image should match the content of your message—go seasonal for a holiday party, mouthwatering for a bake sale, or exotic for a travel poster. If you have to print large-scale posters, it's important to use a high-quality image for optimal results. Make sure your photo has been saved to at least 300 pixels per inch.
There are several online options for stock photography. Paying sites with a large selection of images include Shutterstock and Getty Images. For a source of free stock images, try Freerange Stock.
The photo below is from Unsplash, a site that started by posting 10 art-quality photos every ten days. If you use multiple photographs or graphical elements in your poster, try unifying them with a color scheme (for instance, all black-and-white) or matching sizes.
The wait is over: Unsplash is here. Access 1,000,000+ professional stock photos FREE with our new Unsplash integration. Now you'll always have the perfect picture to complete your next project. Learn more>>>
In Lucidpress, add images by dragging the Image icon from the left-hand Content bar to your canvas. This will open the Image Manager, where you can upload your saved images or use photos from your Facebook or Dropbox albums. You can also turn on image integrations like Bing Image Search and Unsplash.
2. Choose complementary fonts
A common pitfall for new designers is using too many fonts and font styles, creating a cluttered, hard-to-read look. Classic posters can maximize the impact of a single font. Remember that your audience has to be able to read and understand your poster from several feet away, at a glance.
In Lucidpress, you can enable hundreds of different free fonts in the Font Manager. Access this with your text highlighted from the Properties bar. These are divided into families, like Serif, Sans Serif, Retro and Calligraphy. Start with a simple, easy-to-read font like Aller, Liberation Sans or Droid Serif. Once you have the text as you want it, you can play with the font, size & character spacing. These options are available in the right-hand dock under Text.

How to make a poster in Lucidpress
For an in-depth, user-friendly overview of typeface mechanics, check out this page by Thinking with Type. Being able to compare the x-height, ligatures and weight of two fonts will help you create a professional-looking poster. Keep in mind that typeface mixtures can be tricky. When combining two typefaces, make sure they contrast—for instance, in this Casablanca poster, the actors' first names are in script while the last names are in a bold serif typeface.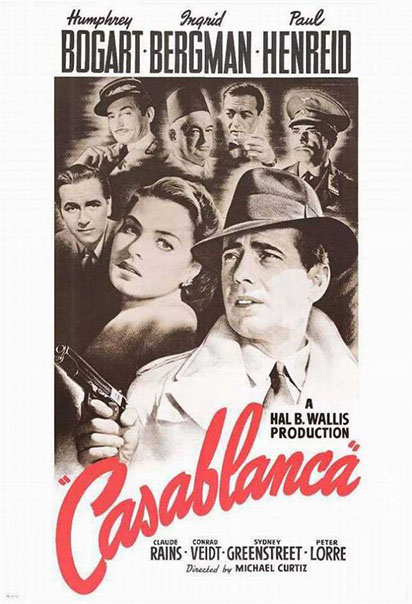 3. Determine text placement
Posters are visual documents, and where you put your text matters. The audience's eye will be drawn to the center of your poster, so it's likely that you'll place your main message near the center. Alternatively, a bold image can be placed in the center with details in the header and footer. Whatever you do, don't consign your message to the margins of your poster.
Another engaging visual scheme is to align all your text to one side. Below are two examples of posters with the text aligned to the right.
This unifies the text and makes it easier to absorb the poster's message. It creates a good visual form because text is as much a visual element of a poster as the images. A good rule of thumb is that 72-pt font is 1 inch high when printed. The most important message of your poster should be in the largest font. You can add vertical and horizontal guides by right-clicking your canvas in Lucidpress.
4. Make a statement with color
Posters with beautiful colors engage our senses and invite us to look longer. Your audience will get a starkly different feeling if you use bright hues instead of black & white, or overlapping transparent shapes instead of bold geometric ones. Match the colors to your message, and remember that a well-designed poster can make an impact with just a handful of shades.
Try using a convenient online tool for saving color palettes which then you can import to Lucidpress. For instance, if you save a color scheme in Adobe Color, you can see a color's hexadecimal value, then specify that value in the Fill box in the Properties bar. This can be applied to shapes, text or the background of your document.
5. Trim down your message
The length of your messaging largely depends on the purpose of the poster. A movie poster may be limited to the title, the tagline, and the names of the actors. Decorative posters may not have text at all while scientific research posters could contain 500 words or more.
Ask yourself: What is the most important takeaway for my audience? Once you've written a summary of what you're advertising, whittle it down to headline style. For example, if you're a member of a band who's making a poster for your show, make sure to include the venue, the date and time, and any opening acts. Brevity is the soul of poster copywriting.
When you use a cloud-based layout editor, designing a poster is simple. Lucidpress has several poster templates which you can use to advertise events, promotions and even films.