You've started the day with a sales rally and the pep talk of your life. All of your agents have come in for the start of an important new campaign. They've reviewed the direct mail piece sent out earlier in the week. They're educated on the offer. They've never been readier to sell. Everything and every person is in place.
And the phones are silent.
It's a marketing manager's nightmare. Experience tells you that once the letters are mailed, you have no way of predicting when they'll arrive in mailboxes, much less where they're stuck at this moment. The success of your campaign is at the mercy of a system that appears to send mail through a time warp with variable results.
In reality, there's nothing so mysterious about the U.S. Postal Service. It works efficiently to deliver billions of mail pieces each year. The system tracks the location of each piece of mail from the time it's dropped by the sender to when it lands in the local mail carrier's hands en route to its final destination.
Working with a direct mail provider who understands these systems and puts them to work for you can prepare you for the time phones actually start ringing. When you're this prepared, you have the power to maximize your profits.
Method in the madness
The USPS works much like the hub-and-spoke system of major airlines. Business mail enters the stream at Bulk Mail Entry Units (or BMEUs). Then it's sent to Bulk Mail Centers (the hubs, also called BMCs) or directly to Sectional Center Facilities (the spokes, also called SCFs). Generally speaking, each SCF handles mail for which the first three digits of a zip code match. From the SCF, mail is sent to local post offices or Destination Delivery Units (also called DDUs).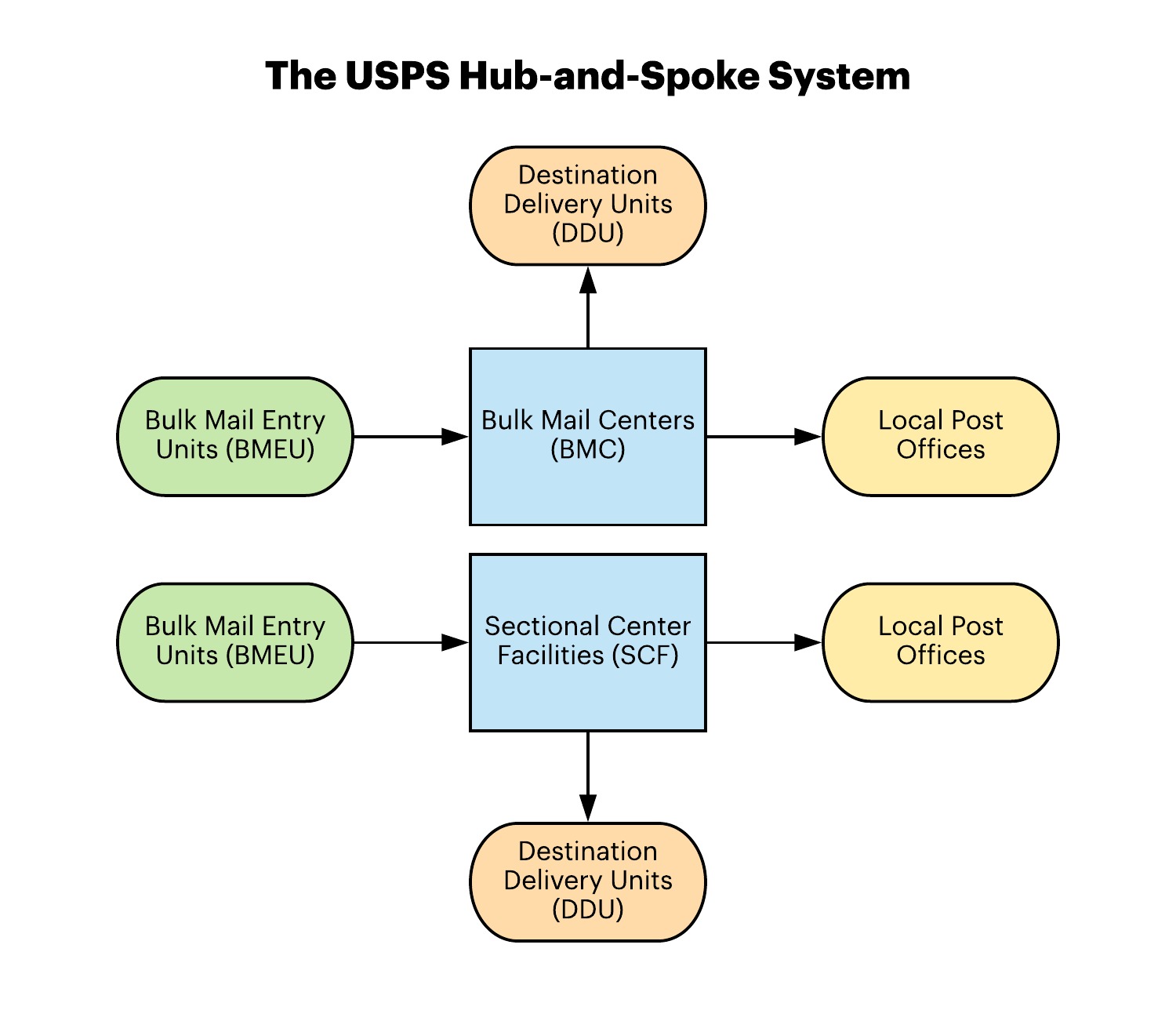 Made in Lucidchart
As with airlines, you can pay more to have your mail travel first-class. Though it will travel on the same planes, trains and autos as standard class mail, the first-class designation means the mail will receive priority handling.
If postal workers run out of time to sort all the mail that comes to them that day, standard mail must go on standby for a delayed trip. Still, the USPS requires standard mail to be processed within a certain timeframe, so it won't be stranded with an indefinite layover.
Built-in accountability
Two key reporting documents can help you track your direct mail marketing pieces. The USPS provides a 3602 postal receipt when mail is dropped by the sender at the BMEU. This stamped receipt, provided either in electronic or paper form, will show:
the total number of pieces
the date they were accepted
the exact amount of the postage
The 3602 receipt is given to your direct mail provider at no cost, and it should be passed along to you free of charge.
Many direct mail providers also create tracking reports that help you maximize your campaign's ROI. Each piece handled by the USPS is stamped with an intelligent bar code, which is scanned at each step in the delivery process, from initial drop-off to the DDU. Direct mail providers can locate pieces in the system and predict when they will arrive at their destination.
Knowledge is power
The receipt and tracking reports help in two major ways: You can confirm that your provider printed and mailed the correct number of pieces, and you can plan your mail drop so that delivery occurs at a convenient time for you.
By using first-class mail, you maintain greater control over when your direct mail will be delivered. Standard mail is roughly 10 cents cheaper, but it may be delayed by several days. You should choose the latter option only if you're prepared to take customer calls every day that mail is delivered.
A knowledgeable, experienced direct mail provider will have discovered clear trends in mail delivery speed based on the day mail is entered at the BMEU. They will help to time your mail drop so that it arrives on days when your office is open, so you can schedule sufficient staff to handle the extra call volume.
Experienced providers will also have gathered enough data from their tracking reports to estimate varying delivery times in different states. If you know ahead of time that delivery is likely to come a day earlier in the Eastern time zone than in the Pacific, you can schedule extra morning workers early in the week and more evening workers later in the week.
With valuable tracking information and experienced professionals at your side, you will avoid dropped calls and increase your sales.
First-class all the way
If you're choosing first-class for your mail, why not upgrade your direct mail provider as well? Many marketers choose a provider based solely on the final cost-per-piece, but it's worth working with someone who services your account beyond the basics.
Before you undertake your next mailing, consider the added value of a direct mail provider who will:
time the mailing of your piece for maximum results
consult with you on expected delivery rates
provide a stamped postal receipt to verify the order
track the delivery rate to help you measure your success
help you plan future direct mail marketing campaigns
In many cases, the cost of these extras may be only slightly higher than the competition. However, you gain a strategic partner with the potential to improve your results. You can't get more "first-class" than that.