How to Make a Poster
Everyone loves posters—whether they're decorating a college dorm room or advertising a blockbuster film, posters attract our notice and communicate their message succinctly. Although we're in a digital age, posters are print documents that are here to stay.
If you want to make your own business or personal poster, try Lucidpress. With professional-grade, easy-to-learn image and text editing capabilities, your work of art will be done in no time.
Try it now
Sign up free
---
GET THE RIGHT SIZE
Posters are large print documents designed to grab attention. A few standard poster sizes are 11" × 17", 16" × 20", 18" × 24", and 24" × 36". You have flexibility in choosing the size of your poster, depending on whether it will be on a corner lightpost, the break room, or a school bulletin board. All of the poster templates in Lucidpress are set to 18" × 24".
---
GRAB ATTENTION WITH GREAT DESIGN
Since the advent of print, posters have been affixed to walls, telephone poles, and business storefronts. The combination of great design and simple text is eye-catching and effective.
Use the light and dark areas in a poster to provide added contrast. This will grab your audience's attention. Place light text on a dark background and dark text on a light background to improve legibility. Balance the placement of text and graphics so the poster doesn't feel cluttered or crowded. Good poster design makes use of negative space, which are areas without text or photographs.
---
LAY OUT YOUR POSTER
Your audience needs to take in the message of your poster at a glance. Choose your alignment—left, centered, right, or justified—and apply it to your headers, photos, text, and shapes. Unify the elements of your poster by aligning objects and text. This will make the poster feel coherent. Text is often centered, creating a sense of symmetry.
---
CHOOSE YOUR GRAPHICS
Photographs and other graphics can visually communicate a message in ways that words can't. Have a balance between text and images that complement and relate to each other. With larger posters you will want to make sure you have the highest-resolution version of the photo possible. Don't upload low resolution files of photos, otherwise your printed poster won't look its best. Use photos which have been saved at a minimum of 300 pixels per inch at poster size for printing.
---
USE COLOR IN YOUR POSTER
Posters are designed to grab attention. A good eye for color can direct your audience to the core parts of your message. Choose colors that complement your photographs and your message. For example, if you are advertising a farmers' market, the color green can evoke freshness and nature. A poster can make a big impact even with a limited color palette—too many colors can distract from your message. Black and white posters provide good legibility for simple posters. There are several tools online to help you choose a color scheme, including Adobe's Kuler. This tool lets you upload a photograph and select complementary colors to use in your background or text.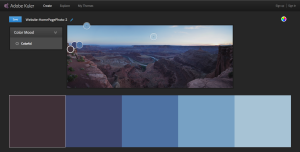 ---
INCLUDE TEXT INTO YOUR POSTER
Keep your headers and titles simple. Use a larger font size for headers, which helps you determine the first thing your audience sees. Grab your audience's attention with contrasts in font sizes, style, and color. If using multiple font faces, choose ones that are different enough to look deliberate. As a rule of thumb, don't use more than two font faces in a document. Use font weight (bold) to differentiate sections of text. The use of ALL CAPS and italics also draw attention to particular points of a message. Keep text limited to your core message so your audience knows What, Where, and When.
---
Posters aren't simply advertising tools: the best poster designs become works of art. Whether you're creating a poster for a movie, a party, or to decorate your home or office, Lucidpress has the templates you need. The Lucidpress editor is intuitive enough for a beginner but customizable enough for advanced poster creators.
Try it now
Sign up free
---
Sign up free
Examples
Templates