A-frame and sandwich board signs
Custom graphics. Durable. Portable.
Brochure Bifolds come in packs of 25
Number of Packs
Per Item
Pack Price
Quantity
1 packs x 25 items per pack = 25 Brochure Bifolds
Summary
Create an account,
start your order
Print Options
Coroplast
The sign is printed on coroplast — a corrugated, lightweight plastic board that withstands all weather types. Except for a tornado.
Stand
Add an optional A-frame stand to your order.
Which size is right for you?
Design and print with Lucidpress
Design
Use one of our poster templates or upload your own.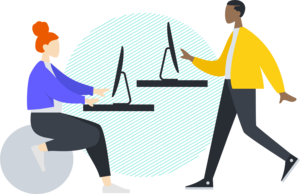 Order
Select "order prints" and customize your order.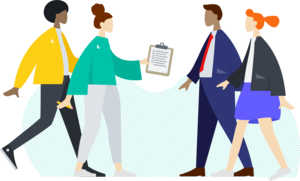 Deliver
Have your A-frame sign shipped straight to your door.
Create a custom A-frame
Thought of a good pun and need to share with the world? Have unique hours and want an easy way to let people know you're open? Or maybe you need to communicate directions? Regardless of your needs, there's an A-frame for that. Custom A-frames, also known as sandwich boards, are a fantastic way to grab people's attention and drive them to your storefront, event and more. A-frames are lightweight, durable and easy to assemble and take down, making them ideal for just about everything.
FAQ
How do I design my sign?
Design your A-frame in a snap — with Lucidpress! Choose one of our 24x36 poster templates from our gallery. Then use our editor to update text, logos, colors and fonts to match your brand.
Can I order new inserts without a stand?
Yes, simply leave the stand option unchecked.
How do I upload my own design into Lucidpress?
Lucidpress offers multiple import options. 
InDesign import:
To import an InDesign file, go to "File" > "Indesign import." 
Image import:
To upload an image, first, create a blank document. 

Then go to "Insert" > "Image." 
PDF import:
To import a PDF, go to "Insert" > "Image." 

In the menu dropdown, select "Pages from PDF." 

Once the file is uploaded, you can insert the file as a new page.
Where can Lucidpress ship to?
Currently, we can ship anywhere within the United States. If you do not live in the United States, you may download your document as a PDF and then send it to your local printer.
What vendor does Lucidpress use to print?
The main vendor that we use for prints is a company called Alexanders. We have other print partners depending on the location and integration you've set up.
What do I do if there is a mistake in my print order?
Lucidpress offers refunds for printed orders that arrive defective or damaged, provided the third-party printer or transit carrier is responsible for the damage.
How can I cancel an order?
To cancel your order, go to Account Settings > Order History. If there is an option to Cancel Order on your print order, you can still cancel it and get your money back. If not, this means that the production process is already underway, and we will not be able to reimburse you.